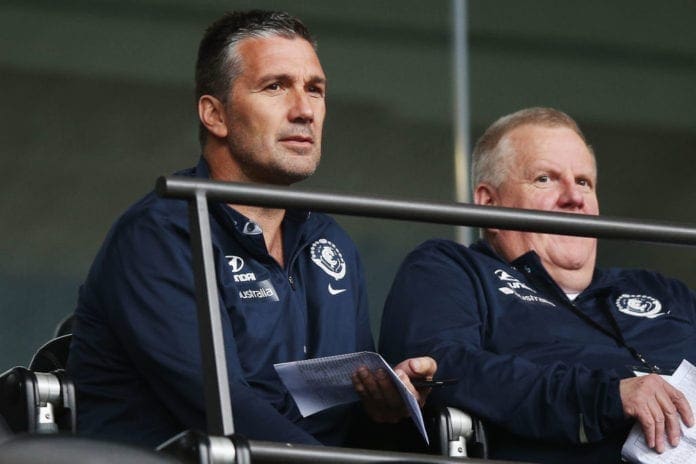 Ex-Carlton list boss Stephen Silvagni has launched a scathing attack at the club over his messy departure.
Silvagni exited Ikon Park last December after a five-year tenure in a decision that surprised Blues and AFL fans alike - with Carlton citing the "complexity" of having both his sons on the list.
"The difficult decision to not enter into a new contract with Silvagni … centred around the increasing complexity of having two sons on the playing list," the Blues said in a statement.
"The situation is not only a conflict for the club's GM List Management and Strategy, but equally for those who work in and around him in the football department."
Speaking on SEN Breakfast, Silvagni took aim at chief executive Cain Liddle and believes his two sons - Jack and Ben - were effectively thrown "under the bus" in being linked to his departure.
The AFL Hall of Famer said he enjoyed his time at the club outside of the last three months.
"I loved my time at Carlton, other than the last three months or so and there's some great people there. We worked really hard to build a list and get the salary cap into order," he told SEN Breakfast.
"I think really it got messy in the end and throughout the year I'd been talking to Mark LoGiudice about moving on, whether that was at the end of last year, or at some stage this year, but that decision was made for me and that happens in footy clubs.
"I just think looking back at the press release, it just put the boys under the bus. I thought it was amateur, to be honest and really lacked any respect in terms of how you handle people on the way out.
"That was probably the most hurtful thing. I think your two biggest assets at a football club are your supporters and your players.
"The way that press release was written up I think put two players under the bus and put more pressure on them than they should have to handle throughout a season and ultimately if you used, and I'm talking about (CEO) Cain Liddle here, if he used the words he used to me when he decided not to go on with me, I would have been fine with that.
"But when you use words that weren't in that, and I told him if that's the reason you don't want to renew my contract, that's fine, but make sure you use those words they've used, but he didn't have the courage or conviction.
"(I took exception to) 'complexity' … complexity was never mentioned to me. Ultimately the words that were mentioned to me were that it was untenable that I remain at the football club because my boys were there."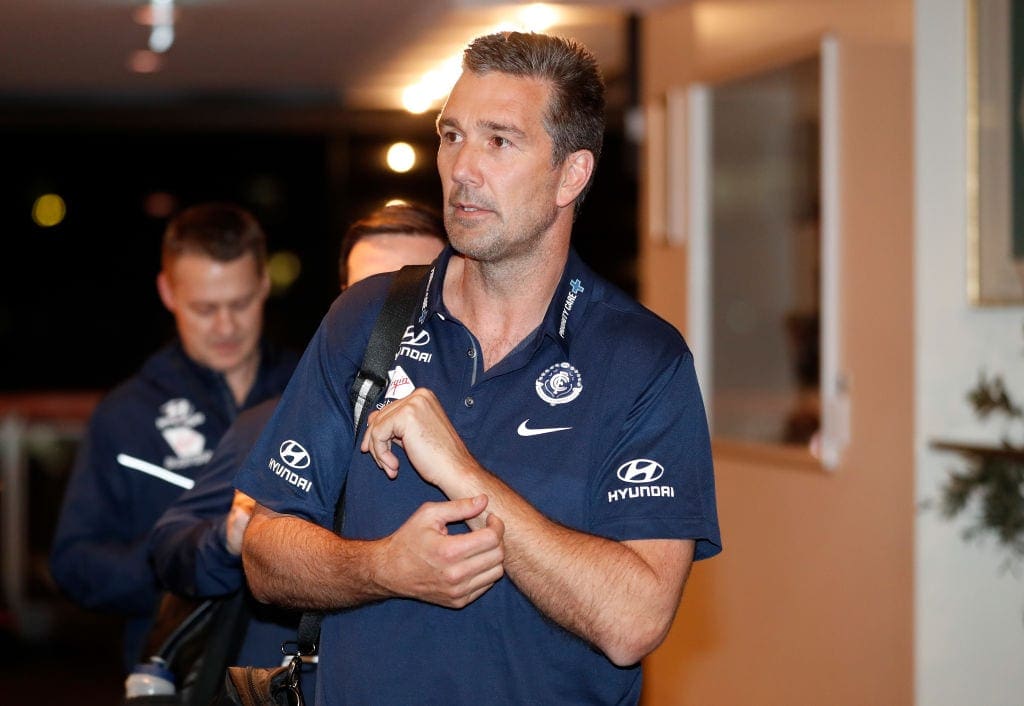 The legendary fullback said he was most upset by the disrespect he felt he was shown by Liddle in saying he would sabotage the trade and draft period if he stayed at the club.
"What hurt me the most … probably when your president has a chat to you and he says I've fought for you, that the CEO (Liddle) felt as though I would sabotage the trade and draft period," Silvagni said.
"I hate talking about myself, but when you've played for a club for 17 years and you put your body on the line and supported the club all your life, for a person to say you'll sabotage the trade and draft period, and for me, an outsider that's come into the club and doesn't know a lot about the club or me, that was probably the most disappointing out of everything that happened."
Silvagni also spoke about the club's pursuit of Eddie Betts last off-season, explaining that the Blues list management were all on board but that he had reservations only due to the price that it may cost.
The former list manager revealed that he wasn't consulted when Liddle intervened to offer Betts more money.
"When someone above decides 'well, you know what I'm going to change those rules' – and the reason why you get a little bit annoyed and frustrated at times is that when we went into the Carlton Football Club … our list wasn't in a good state and either was our salary cap," Silvagni said.
"You work really, really hard to get your salary cap and TPP into a position that you know you can look after the players now and you can look out of place in the future. But when certain people start splashing money out after we all agree what that payment should look like … I don't find that fair. And that's what I said at list management (meetings).
"We all have a responsibility to make sure that those players are looked after that are loyal to that football club. When you have people at football clubs overrule your decisions that you've worked so hard for – and because they want memberships to look great or they want the accolade that we're bringing someone back – is their intention the right intention for the Carlton Football Club? And I don't think it was."
Silvagni played 312 games for Carlton from 1985 to 2001, winning two premierships, five All Australians and two best and fairests.
He is a Blues Hall of Fame legend and the fullback of the club's Team of the Century.
Listen to the full audio of Silvagni's interview with SEN below. 
LISTEN | Stephen Silvagni's explosive interview with Garry Lyon and Tim Watson, including:
- His messy Carlton exit
- Disagreements on the Betts deal
- Mitch McGovern
- Charlie Curnow
- Thoughts on Jeremy Cameron's GWS exit
- Adam Saad's Dons exit

Link: https://t.co/W30aMAftpw

— Telstra AFL Trade Radio (@traderadio) October 20, 2020