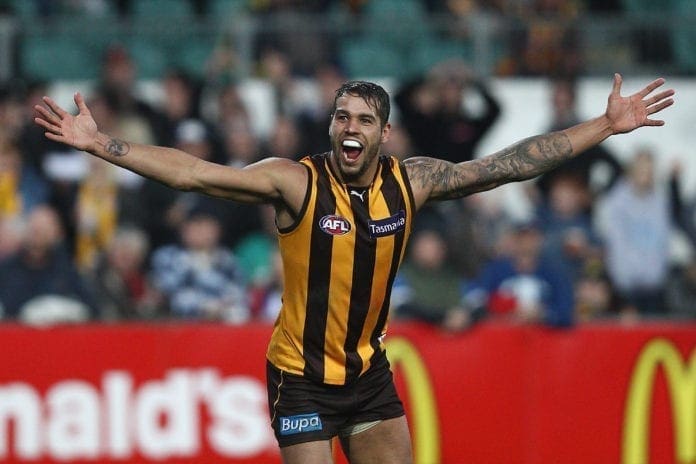 With SuperCoach entering the second week of the finals, most players will be looking for some big scores from their superstars.
2019 has only seen two scores above 200, with Stephen Coniglio (207) and Josh Dunkley (202) achieving that feat this season.
The pair recorded 200 points for only the 17th and 18th time this decade, with the magical double-ton certainly a rare event.
The Herald Sun looked back over the past decade for the highest point scorers, and he's what they've found.
Lance Franklin currently has the highest score to date since 2010, with his 232 against North Melbourne in round 10, 2012 the best SuperCoach score from the past 10 years.
On that fateful day, Franklin booted 13 against the Roos in Tasmania with 23 disposals and four contested marks.
North Melbourne has also conceded the second-highest tally as well, allowing Patrick Dangerfield 48 disposals, 23 contested possessions, 13 clearances, 11 inside 50s and two goals for 229 points.
Gary Ablett is the only player to feature a whopping three times, while Dean Cox and Jack Riewoldt have achieved the feat twice.
Here's the full list of Supercoach scores over 200 since 2010
| | | | |
| --- | --- | --- | --- |
| Lance Franklin (Haw) | NM | Round 10, 2012 | 232 |
| Patrick Dangerfield (Geel) | NM | Round 12, 2016 | 229 |
| Mark LeCras (WC) | Ess | Round 16, 2010 | 228 |
| Todd Goldstein (NM) | Ess | Round 16, 2015 | 221 |
| Jack Riewoldt (Rich) | GC | Round 21, 2018 | 219 |
| Lindsay Thomas (NM) | Carl | Round 12, 2010 | 218 |
| Jack Riewoldt (Rich) | WC | Round 12, 2010 | 217 |
| Dean Cox (WC) | NM | Round 15, 2012 | 215 |
| Dean Cox (WC) | WB | Round 19, 2011 | 212 |
| Gary Ablett (GC) | NM | Round 6, 2017 | 210 |
| Bryce Gibbs (Carl) | GC | Round 13, 2017 | 208 |
| Stephen Coniglio (GWS) | GC | Round 11, 2019 | 207 |
| Josh Kelly (GWS) | Carl | Round 20, 2018 | 207 |
| Gary Ablett (GC) | Adel | Round 8, 2011 | 204 |
| Tom Rockliff (Bris) | Carl | Round 11, 2016 | 204 |
| Gary Ablett (Geel) | Syd | Round 7, 2010 | 202 |
| Josh Dunkley (WB) | Melb | Round 17, 2019 | 202 |
| Heath Shaw (GWS) | WB | Round 9, 2016 | 200 |