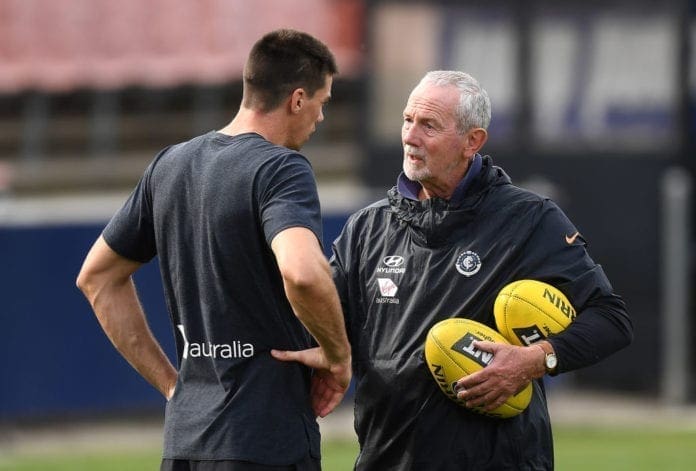 Essendon have revealed the details of the six person sub-committee that will lead the search for the club's next senior coach following the sacking of Ben Rutten last week.
The Bombers have seen several departures in addition to Rutten since the conclusion of Round 23, with board members Simon Madden and Paul Brasher resigning, with Sean Wellman and Peter Allen to set down in the coming months. CEO Xavier Campbell also handed in his resignation.
Executive GM of Football Josh Mahoney will chair the panel as the club's representative, joined by premiership coach Robert Wells and premiership Hawk Jordan Lewis.
Melbourne Vixens netball coach Simone McKinnis, Andrew Thorburn (CEO of NAB) and Club Director Dorothy Hisgrove round out the six-person team.
Along with appointing the senior coach, the panel will oversee the external club review following the Bombers' disappointing 2022 season, which saw them end the year in 15th position.
Incoming president David Barham said that the panel was essential to ensure the club's success heading into the future.
"I have been clear that we cannot continue to only review ourselves and this external review is critical for the Club's success moving forward," Barham said in a club statement.
"This review will be comprehensive, robust and integrated. It will be led and co-ordinated by EY and supported by Andrew Thorburn, an experienced business leader. This group will work closely with Nick Ryan who will be Acting CEO until a permanent appointment of a new CEO is made. Dorothy Hisgrove will also be involved from a board viewpoint, as an expert in culture and people. The group will also have access to other non-Essendon Football people as they conduct the review.
"We will leave "no stone unturned" in this process."
The external review into the club is expected to conclude around mid October.