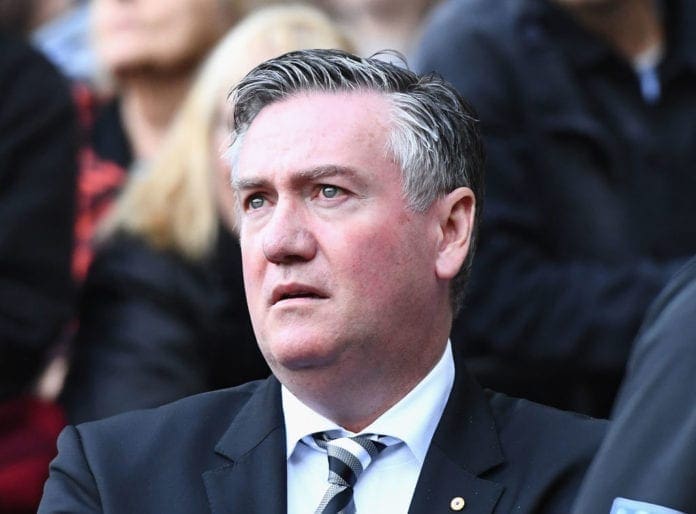 Collingwood president Eddie McGuire has responded to concerned Collingwood fan Shaun Campbell's letter regarding the club's injury crisis.
The self-titled 'hardcore Pies fan' wrote to McGuire earlier in the week, advising the club identify the root cause of the injuries, review the soft cap and Holden Centre surface and be more transparent with fans.
I sent a letter to both Eddie and the CEO today. Appreciate if you can pass it on as unsure if it gets through. Peak Nuff but I think it's solution and fact based. @blkwhitepodcast @PiesCheerSquad @BigFootyMAGPIES pic.twitter.com/GHlfnthdyS

— shauncampbell (@dafoshowsc) July 30, 2019
McGuire acknowledged that the points raised by Campbell were valid but insisted that the club was doing everything in their power to rectify the injury issue.
"All the things that are said there are right, all of those things have been addressed, they continue to be addressed to placate Shaun, if there is a Shaun Campbell out there," he said on Triple M on Friday.
"I think we announced we were building a $70 million rehab and research centre at the Holden Centre.
"Do you reckon in amongst all that we'd be considering all of these things? And also that we haven't looked at the eight million penetrometer readings etc etc on the (training) ground?
"We are taking all that on board but rest assured that we aren't sitting down there drinking pina coladas of an afternoon, everyone is feverishly working and working towards the ultimate outcome.
"Richmond went through a similar situation earlier this year and now they're coming back. It's a contact game and yep, it's something we're looking at."
In positive news for the Pies, Taylor Adams (hamstring) and Levi Greenwood (hamstring) will both return for Sunday's clash against Gold Coast, and Jordan Roughead (concussion) and Tom Phillips (shoulder) have both been named.