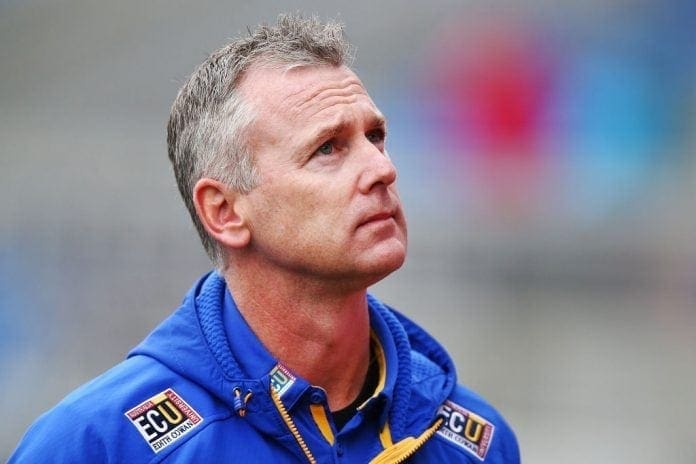 West Coast's board is said to be at sixes and sevens in regard to the future of embattled head coach Adam Simpson.
Despite steering the Eagles to premiership glory in 2018, Simpson's tenure in the West has come under question, not least this week following his depleted side's devastating 116-point loss to Hawthorn last Sunday.
Earlier in the week, reports arose that Simpson would be afforded a three-month leave of absence from the club's Lathlain base following the cessation of the season in an effort to rejuvenate himself after a pair of trying campaigns.
"Adam will coach out the remainder of the season," an anponymous club spokesperson told News Corp.
"When our season ends he will be encouraged to take an extended break to refresh."
However, the club stepped forward on Wednesday, rubbishing said claims via their own statement.
"Reports that senior coach Adam Simpson has been asked to take a three-month break at the end of the season are inaccurate. No such discussion has taken place," the statement read.
As reported by the West Australian on Friday, the powerhouse franchise, now at rock bottom, is allegedly divided over whether to retain Simpson or call for his dismissal.
It has been said that members of the eight-person board - a group that includes former Australian cricket head coach Justin Langer - that support Simpson in his desire to continue on as coach instead have long-serving CEO Trevor Nisbett in their sights.
Nisbett has been an employee of the Eagles since September of 1989, making the leap from West Coast's football manager to his current role in 1999.
Though Simpson will doubtlessly be feeling the heat, his injured skipper, Luke Shuey, dispelled claims that Simpson had lost the dressing room.
"I get the narrative people are going after and the agenda that might be being chased externally – bash West Coast while they're down and try to get someone sacked maybe," the 2018 Norm Smith medallist stated.
"But you're not going to get any clickbait with that sort of stuff from our players at the moment.
"We're fully confident with who we have here. I've never seen a more driven group to turn this around, and I wouldn't want to be doing it with anyone else."
Simpson commenced his tenure as West Coast's head coach ahead of the 2014 season, amassing a 54.98 per cent win rate across the course of 201 games at the helm.
This marker has been dented dramatically since the dawn of the 2022 season, with the Eagles having won just 3 of their past 32 outings.
Simpson and his injury-plagued convocation will seek to return to the winner's circle when they do battle against the travelling Bombers at Optus Stadium on Saturday night.