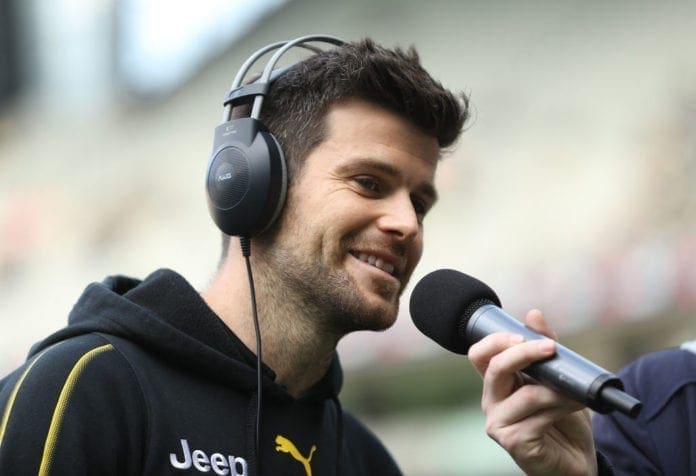 Melbourne AFLW star Daisy Pearce has revealed a story involving a random "act of kindness" from Tigers skipper Trent Cotchin, as reported on SEN.com.au.
Pearce was at Punt Road looking to interview Richmond president Peggy O'Neal for SEN's This Is Grit, when Cotchin intervened.
"I was at Richmond Footy Club on Sunday, so it was game day for the Tigers," Pearce said on SEN Breakfast.
"I was waiting for Peggy in the drive way at Punt Road because the offices were shut as it was a Sunday. I was racking my brain thinking about what my next step would be as I had to get in to speak to Peggy.
"Then through the little tint of Punt Road's offices, I saw Trent Cotchin. He gave me a wave and came and opened the door. That was nice enough in itself but it wasn't the act of kindness.
"I'm standing in there chatting to Trent, he gives Peggy a ring for me to see where she's at. So I've got the skipper chasing up the president for little old me just trying to do an interview.
"As I'm standing there with Trent, another person appears looking through awkwardly and it's a Richmond member. Trent opens the door for him and says, 'G'day mate, what are you after?'. 'Oh, don't worry, there's nobody on reception, I've forgotten my membership ticket, can't get in'.
"The skipper of the Richmond Footy Club, injured at the time and had been in doing a rehab session before heading over to the game, says, 'I'll be back in three minutes'. He goes and logs into the computer, prints him off a couple of tickets, gets him into the ground.
"How many of the club captains would know how to log into the reception computer? That's an insight into the person that is Trent Cotchin.
"The member could not believe what was going on. When he (Cotchin) came out with two tickets, he (the member) said, 'Oh no, I only need one'. And Trent said just to give it to someone else, make someone's day.
"He then proceeded to offer me a tea or coffee. Then Peggy turned up."