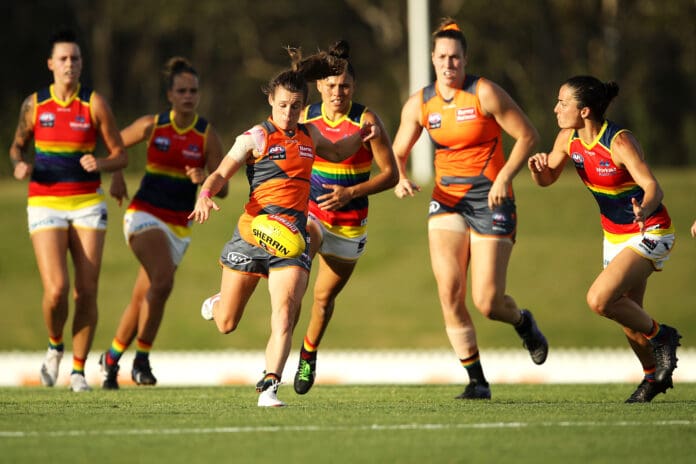 A positive COVID-19 case has forced Saturday's AFLW practice match between Adelaide and Greater Western Sydney to be cancelled.
The league confirmed on Friday that a member of the Giants' AFLW program has tested positive for the virus, prompting the match at Norwood Oval to be abandoned.
The AFL and AFLW took immediate action following the emergence of the positive case, with the decision coming with the health and welfare of the playing groups, staff and wider community at mind.
"The health and safety of everyone in the game and the wider community remains paramount as we continue to navigate the ongoing COVID-19 pandemic," AFL General Manager Competition Management Laura Kane said.
"The decision to cancel the practice match between the Adelaide Crows and the GWS GIANTS was made in consultation with each club and the AFLPA to minimise risk to all players, staff and officials ahead of the Christmas and New Year period.
"Players and staff are looking forward to the holiday period and spending time with their family and friends and when you consider the time of year together with current quarantine requirements across respective states, it was determined the safest decision on this occasion is to cancel the practice match.
"We will work closely with each club and the AFLPA to ensure players across each team are physically prepared ahead of the 2022 NAB AFLW Competition. We thank both clubs and their supporters for their understanding as we continue to be led by the advice of respective governments and health officials."
Adelaide's Women's football boss Phil Harper expressed his disappointment, but was understanding of the league's decision.
"It's disappointing because our girls have been training hard for over two months and were looking forward to a competitive hit-out against a quality opposition, and it's unfortunate for our Members and fans who were excited about seeing our team in action," Harper said.
"But the health and safety of everyone in our program, the wider competition and the community is the priority and we understand why the decision has been made.
"The pandemic has taught us all to be prepared for things to change at the last minute and this is another reminder of that.
"We will still train tonight and use that as an opportunity to get a really solid hit-out in before our players have a brief break ahead of returning to the Club to prepare for the 2022 season."
The AFLW are yet to confirm whether any further pre-season practice matches will be scheduled prior to the commencement of Round 1, which will start on January 7.