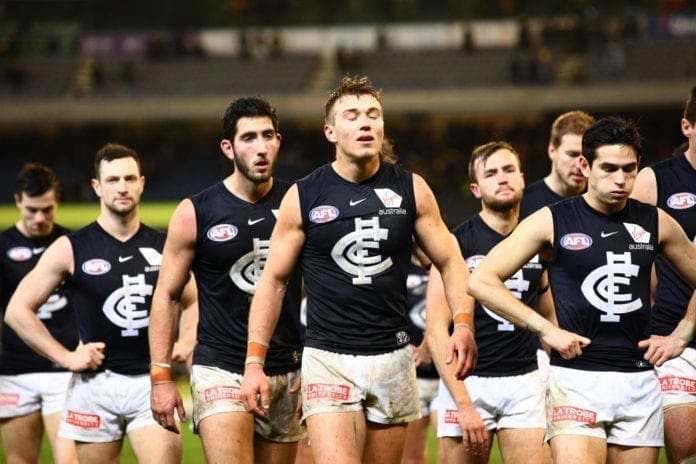 Port Adelaide champion Kane Cornes has continued his scathing perception of Carlton, suggesting the club is "miles off it" and will struggle to reach finals once again in 2021.
The Blues suffered a season-ending defeat to Adelaide on Sunday, with the 16-point loss putting a line through their finals chances.
Cornes stated that the Blues' 2020 campaign is disappointing when they take a look back to where they were positioned this time last year.
"I think it's negligible whether they've improved this year," Cornes said on SEN's Whateley.
"It's debatable whether they've improved this year, right now I'm staring at the ladder and it has them in 12th position and they've been overtaken by Fremantle.
"All the Carlton fans would think it's just going to happen and there's just going to be natural progression forward but is it a given that they improve next year, clearly the pressure will rise for David Teague – it's got to be finals or bust (in 2021) basically.
"I've spoken at length about the culture of losing, when they get into winnable positions like they have done a couple of times this year, they haven't had that grit and determination to get over the line.
"They look miles off it to me."
Cornes further added to the Blues' struggles, stating there's a major attitude problem within the playing group.
"The best coaches have a ruthless edge," he said.
"If you look at history at previous premiership-winning coaches and the current ladder-leaders right now, all of the teams on top of the ladder have a coach who has a ruthless edge.
"That's why I've been so impressed with (Brisbane coach) Chris Fagan and what he's done this year because at the right time, and it's not ever week, he's laid down the law to his players.
"Trying to be a nice guy and be friends with your players doesn't work, if you were ever going to give your players an old-fashioned spray, it was yesterday."