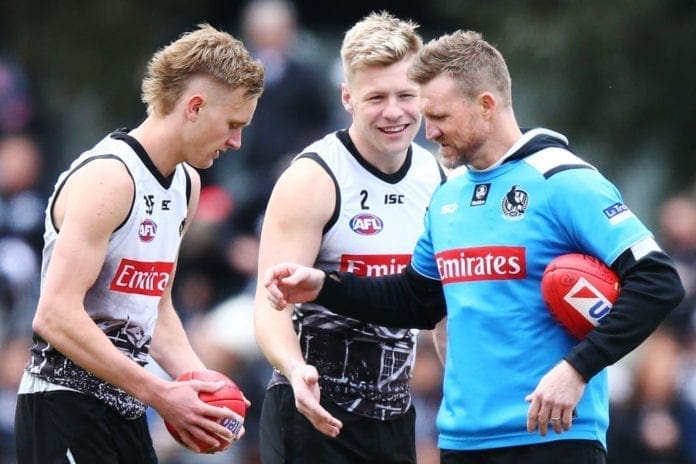 Collingwood will be looking to add another first-round draft selection to their arsenal in the upcoming trade window in hope of adding more high-profile prospects.
The Magpies will hold their own first-round pick as well as Richmond's second-round selection, with Collingwood having traded away their own second-round pick.
Collingwood recruitment manager Derek Hine said the club won't rule out moving for another top selection.
"I think all clubs would like to explore that. I think the first 30 or so players pretty much stand up for themselves and if you can get anywhere inside that I think you'd be well served," Hine told the Road to the Draft podcast.
"The more opportunities that present themselves the clubs are going to take them. A lot of it is with the NGA (Next Generation Academy) and Academy boys, history tells us those clubs have tried to trade out, so whether that creates an opportunity in itself. We'd certainly like to get into the draft and how that looks will be determined in time."
Hine also revealed the likelihood that clubs looking to draft linked Academy and father-son selections may look to offload their earlier selections in hope of gaining multiple selections and therefore more draft points.
"It's like any pick – you look at whatever levers you've got. And then you assess and away you go," he said.
"Potentially the Bulldogs may be looking at doing something not dissimilar with Jamarra [Ugle-Hagan]. At this point in time they're picking [after pick nine] depending where they finish clearly, but I would imagine that's not going to be enough [points] to bring him in so they may look at the opportunity to get into next year's draft by trading that pick out."
The Magpies are also likely to use an early selection for father-son prospect Nick Daicos for the 2021 draft, with the famous name set to be one of the best players in his draft class.
While Hine will look to attain some of the league's next best talents, list manager Ned Guy will have the tough job of retaining star players Darcy Moore and Jordan De Goey.
"Ned's handling all those things, but my understanding is everything's going along really well," Hine said.
"Clearly they're two outstanding talents, they certainly underpin what we're wanting to do as a club, so I don't envisage any problems at this stage. But we're in the pointy end of the season and those discussions are ongoing, just that I'm not involved in them."