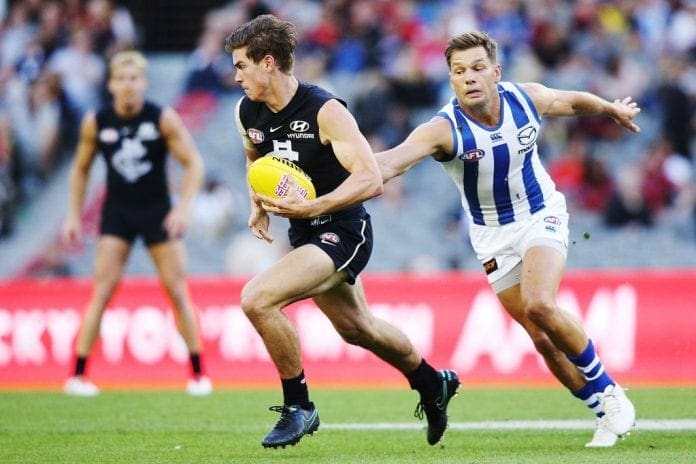 Two-time Brownlow medalist Greg Williams has slammed young Carlton midfielder Paddy Dow, saying the 20-year-old needs to "pull his finger out and toughen up".
Dow returned to Carlton's side two weeks ago after being sidelined with a knee injury and has managed to average just 10 touches and one tackle per game.
The Blues have since dropped the former No.3 pick for Tuesday's must-win clash against Sydney, with hall of famer Williams grilling Dow's dedication and strength.
"Teaguey (David Teague) has obviously made it hard for him to get a game, which is a good thing because he got a lot of games early," Williams told SEN Breakfast.
"I thought just watching him … he's just not desperate enough, not going hard enough and I'm pretty blunt but I think you get what you deserve - you've got to toughen up.
"I remember telling Jobe (Watson) this when he was about 19, I said, 'You've got to play like a man or don't play'. Jobe was thinking he was going hard but he was going half-hard. Then he started going hard and he turned into a man and the same with Josh Kennedy.
"A lot of these young players, they've got to get to a level to be able to compete with other men and Dowy can't at the moment.
"He's got to pull his finger out and toughen up, it's as simple as that.
Dow has played 42 games with the Blues since being drafted in 2017.