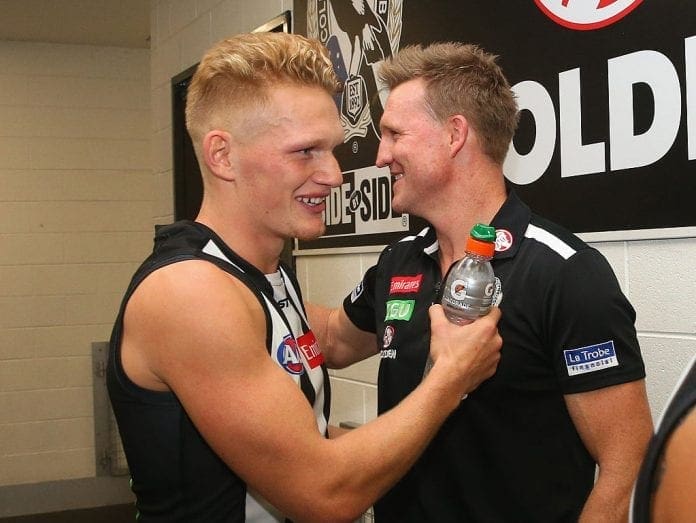 Collingwood coach Nathan Buckley has doubled down on the fact that he did not tell Adam Treloar senior players wanted him out of the club.
Buckley responded to uneased fans at the club's annual members forum on Monday night, who were searching for answers after a tumultuous off-season.
Treloar, Jaidyn Stephenson, Tom Phillips and Atu Bosenavulagi were all dealt away to clear salary-cap pressure in a move that angered and frustrated fans.
Treloar said the club told him the reasons they traded him was due to some senior players wanting him out and their concern for him to play at an elite level with his partner Kim Ravaillion and their child moving to Queensland.
Buckley previously told SEN that Treloar may have misconstrued comments he made to him during a phone call surrounding his exit.
And the Magpies coach stood by his word when directly addressing members on Monday.
"I can state as absolute fact that that was not said to Adam," Buckley said.
Buckley maintained that the trade was purely a "business decision" and that he was not driven out by the players.
"The last thing I would expect of our senior players is to pick one of their own to have to fall under these circumstances," Buckley said.
"... That's not true and I think Adam himself has said that's not true and the players didn't want him gone, and unfortunately it wasn't a popularity contest it was something we needed to do from a business decision.
"I said at the time it [the suggestion players wanted him out] is damaging and disrespectful to Adam, his family and his connections and to the football club and the senior leaders and I stand by that."
Treloar was dealt to the Western Bulldogs in the dying moments of the trade period along with Picks 26, 33 and 42 in exchange for Pick 14 and a future second rounder.