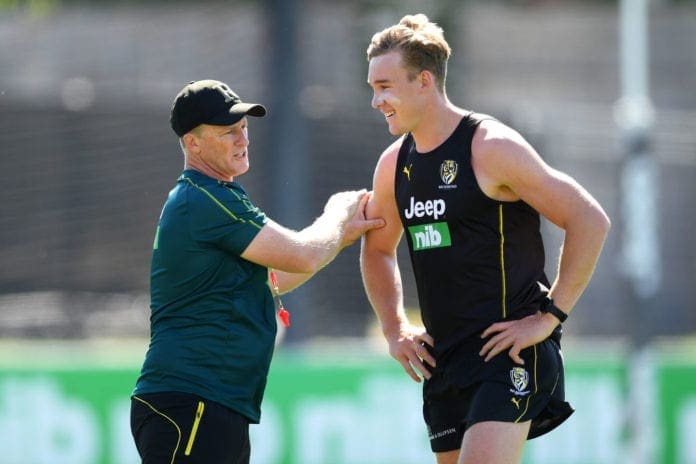 Jonathan Brown has doubled-down on criticism of Richmond star forward Tom Lynch after Richmond coach Damien Hardwick lambasted the former Lions captain for his comments.
Lynch has been quiet on the goals front of late and Brown said during last weeks win over North Melbourne that the forward wasn't getting himself to enough contests.
Brown urged Lynch to "get up the field" and get more involved in the game.
However, Hardwick leapt to the defence of his star forward saying that Lynch was fulfilling a role for the team and that his goal tally wasn't the only key indicator of Lynch's output.
Hardwick has often said that his key forwards play a different role than most in the competition with marks and goals not the be-all-and-end-all for his big men. The three-time premiership coach said post-game that Brown was off the mark in his assessment of Lynch.
"Actually, what I will say is it's very easy in the cheap seats. They tend to forget how hard this game is," Hardwick said.
"Browny's (Jonathan Brown) capable of putting his hand up to coach at some stage. If he wants to coach – by all means, put your hand up … Seriously, give me his job. Let's swap for a week."
Those comments saw Caroline Wilson enter the discussion with journalist saying on Footy Classified that Hardwick's comments were that of someone who  "sometimes behaves as though he's bigger than the club."
Speaking on Fox Footy's On The Couch, Brown didn't shy away from his comments saying that there's no doubt Lynch is out of form.
"He has been struggling... He's got to get up the ground and go to work. Lynch, Brown said.
"He was in three contests in the first half. I think I'm speaking from experience and I feel reasonably well qualified to speak about the key forward position. When you're struggling and your team is struggling in a game, you need to get to more contests – it's as simple as that.
"Dimma said his role might be to bring the ball to ground. Well, he's not doing that because he's not getting to the contest. He's kicked four goals in four weeks.
"I wouldn't be relying on the crumbers, they dropped three crumbers going into the game. So Lynch has got to be better.
"It's as clear as the nose on your face that Tom Lynch gets to work at times and gets up the field for Richmond. So he just needs to get into more contests and we were talking in the context of that game."
Hardwick bit back at Brown when saying that he will always defend his players. Hardwick implied that Brown's reaction was a bit "sensitive"
"My job is to support my players. End of story. If people get sensitive to it then - part and parcel of the job, as far as I am concerned," he said.
"We are all big boys. I am sure Jono Brown is OK with it. He will call me a dickhead the next time he sees me and I will probably call him one as well, so we move on pretty quickly."
Hardwick has gone on the front foot already this year when criticising Marvel Stadium, while last year he went in on David Scwharz when attacking the former Demon on a personal basis.