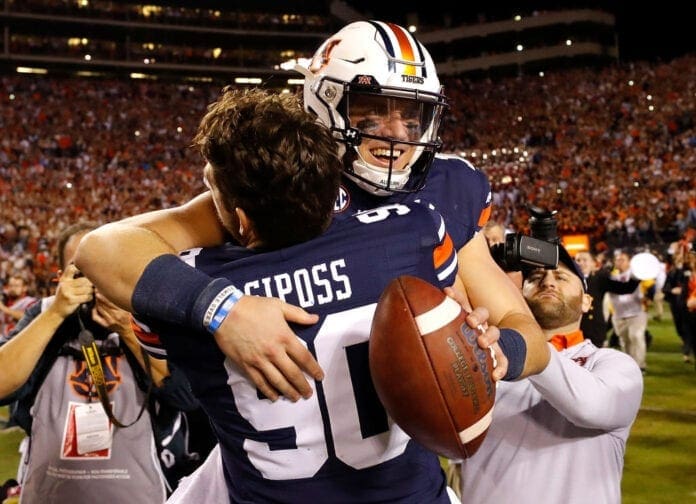 The NFL season came to a conclusion when the Tampa Bay Buccaneers defeated the defending champion Kansas City Chiefs 31-9 in Super Bowl LV.
Immediately, attention turned to the 2021 NFL Draft and once again, Australians with ties to the AFL are set to get their kicks on draft day.
Various NFL scouting services already are posting their position-by-position rankings for NCAA players who are draft eligible and you can lay odds at the top online sportsbooks that when a punter's name is called on draft day, he'll be an Australian bloke.
The top-rated punter for the NFL Draft is Perth's Max Duffy of the Kentucky Wildcats. He played in the AFL for the Fremantle Dockers. Also highly-rated is Wangaratta's James Smith of the Cincinnati Bearcats. He played AFL ball for the Wangaratta Rovers.
Smith and Duffy were the punters selected to participate in the Senior Bowl, an annual game in which college draft-eligible players are showcased for NFL coaches, executives and scouts.
Duffy Gets His Kicks In
Duffy, 26, who played for Fremantle in 2014-15, won the Ray Guy Award in 2019. That prize is awarded to the best punter in U.S.college football. His win marked the sixth time in seven years that an Australian had earned the honor.
In his senior year, Duffy ranked fourth in the SEC and 12th nationally in punting, averaging 45.1 yards per punt. He boomed a career-long 75-yard punt against Auburn, but drew the most attention for a punt he got off against North Carolina State in Kentucky's 23-21 Gator Bowl win.
Faced with an onrushing North Carolina State player intent on blocking his punt, Duffy's AFL instincts took over. He sidestepped his pursuer and then unleashed his punt while on the run. 
"We'd done a bit of homework in the week leading up on one of the guys that came after it," Duffy told RSN Breakfast. "He blocked a fair few punts during the year. The plan was to block him. Apparently we didn't want to do that.
"I knew he was going to be coming after it pretty hard and it was just a spur of the moment (decision) to go back to the AFL days. Since then I've got a fair few messages, which is funny because it's something we see every weekend in Australia in the AFL."
Smith Does His Own Turn On The Run
Smith, 27, finished as the Bearcats' all-time leading punter and a four-time all-conference player. He earned First-Team All-AAC recognition in 2017 and 2018 and second-team status in 2019 and 2020.
"I've always been gifted, like I had a pretty good leg, was reasonably athletic at most sports I played back home," Smith said of making the transition to American football punter. "I knew I had the athleticism and drive factor to want to be good."
In Cincinnati's 24-21 loss to Georgia at the Chick-Fil-A Peach Bowl, Smith got the chance to display those athletic skills when he ran nine yards for a first down on a fake punt.
"There's always fakes and things that we're looking to do," Smith said. "We were pretty lucky to have such an athletic and gifted group on the punt team. To be able to do it in the last game was pretty unreal."
Aussie NFL Pedigree
Three NFL teams deployed Australian punters during the 2020 campaign and all three of them figured among the league's punting leaders. Sydney's Michael Dickson of the Seattle Seahawks, a former Sydney Swans player, ranked fourth in the NFL in net punting average at 44.4 yards per kick. 
Gosnell's Mitch Wisnowsky of the San Francisco 49ers was seventh in the league with 26 punts downed inside the 20-yard line. Geelong's Cameron Johnston, whose AFL playing career included time with the Geelong Falcons, Melbourne Football Club and Casey Scorpions, punted 71 times last season, second-most of any league punter.
Arryn Siposs spent the season on the practice squad of the Detroit Lions.
With so many Aussies already punting in the NFL, it's proven to be a boon to the next generation like Duffy and Smith. 
"It's also lucky we have so many pro Australian guys in the NFL that are playing really well," Smith said. "If I ever need some help or advice, I'll message one of them. 
"They're more than happy to get back to me."