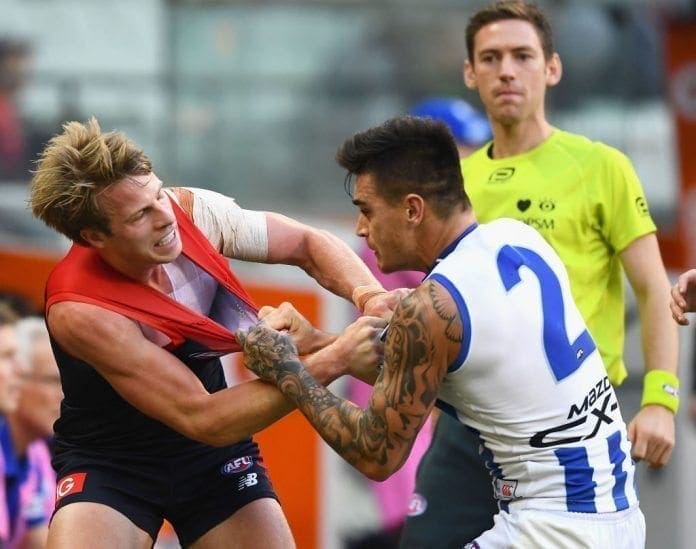 Let it be known that before reading this, I am holding a fist full of a jumper.
After a handful of weeks with several incidents involving jumper punches and unexpected jabs, the AFL have had a gutful of it and have ordered it to stop before someone's feelings get hurt.
AFL CEO Gillon McLachlan and GM of Football Operations Simon Lethlean have both been very vocal in the media in the early part of this week in a bid to knock the act out of our game.
Except, they haven't really done anything at all.
There have been many opinions, particularly over the last fortnight by players, coaches and media personnel with the large majority stating there is no place for it in the game, so when Lethlean spoke on Tuesday morning radio and declared that change is required, why weren't changes made?
While admitting that the Match Review Panel would judge such cases with a harsher stance, it still won't deter players from a little bit of a scuffle once it skips the memory of most on a few weeks.
Understandably, making drastic MRP changes in the middle of the season wouldn't be appropriate, but there has to be more transparency in the guidelines.
As Sydney coach John Longmire pointed out on Fox Footy's AFL Tonight, it's not ideal that players won't be suspended for something one week but could be the next.
From a players point of view, a scuffle has and always will be a part of the game, with the physicality of the game is arguably the game's greatest advertisement, however if the AFL were serious about stamping out the act, they'd have taken a stronger stance on the matter.
"If you're going to miss games when it happens, then it'll be stamped out of the game straight away," Sydney superstar Lance Franklin said today, who is no stranger to a fracas.
Many fans will tell you that it's all just in the heat of the moment, with jumper punches and 'cheap' jabs apart of the game, and while you may think so, the AFL does not.
At the end of the day, all fans want is a clear understanding of the rules and regulations, something they have not received in this situation.