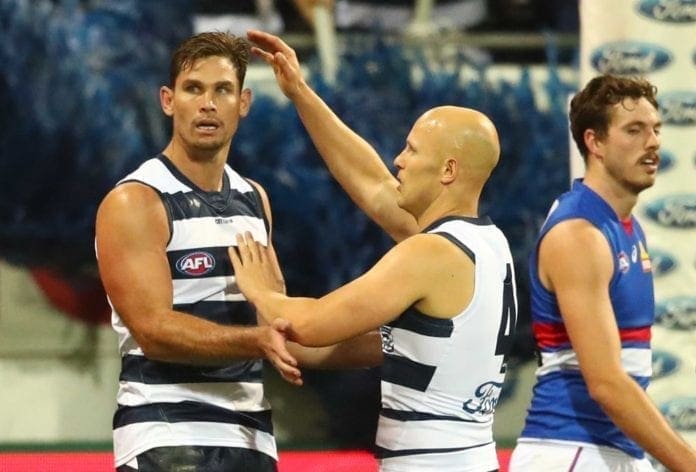 AFL chief executive officer Gillon McLachlan has confirmed Geelong star Tom Hawkins will be available for Saturday's Grand Final after returning a negative COVID-19 test result.
Hawkins missed training on Tuesday after feeling ill, being forced to isolate from his teammates just days from the Cats' clash with Richmond at the Gabba.
Speaking on SEN, McLachlan confirmed Hawkins had not tested positive to the coronavirus.
"Yes, 100 per cent. That was last night," he said in response.
"I don't know if I should have told that ... things get out, but people having runny noses every day ... you get used to it, that's life."
McLachlan was instantly on top of the situation after learning Hawkins was forced to isolate on Tuesday.
"Because I've overreacted and driven my guys mad (in the past), they've stopped doing it (alerting me unless necessary). But I clicked on a website and saw it and was on the phone within half a second," he said.
"They were calming me down, saying he just had a sore throat, was sure it was from the kids, and he'd been tested."
"(But) having had a little app on my phone that's got every result come through for the past hundreds of days, you do realise a lot of people get sniffles and sore throats every day that are nothing related to it (COVID-19) and I've become a bit more (accustomed to) it."
Speaking on AFL 360, Geelong captain Joel Selwood said the club didn't panic, instead going about their business in preparation for Saturday.
"This happens regularly – if a player is under the weather at all, especially this year, they stay away from the group," Selwood said.
"This is nothing new to us, it's just that it's such a big week. Tom will have to stay away for a little while but we'll be seeing him tomorrow."
Selwood will look to captain his side to a premiership for the first time after winning three flags under former captains Tom Harley and Cameron Ling.
"It means everything to me to lead out (the team) every single weekend," he said.
"It's been a special week so far, even hearing from a lot of great teammates from an era that probably dragged me on a little bit.
"(It's been good) just to remind myself what the taste was like when we got it."