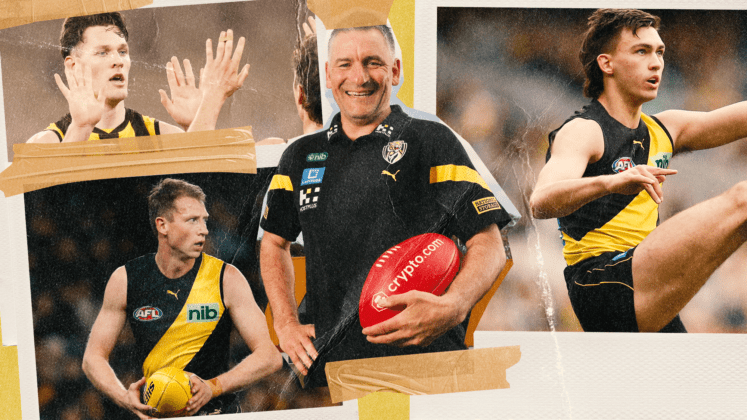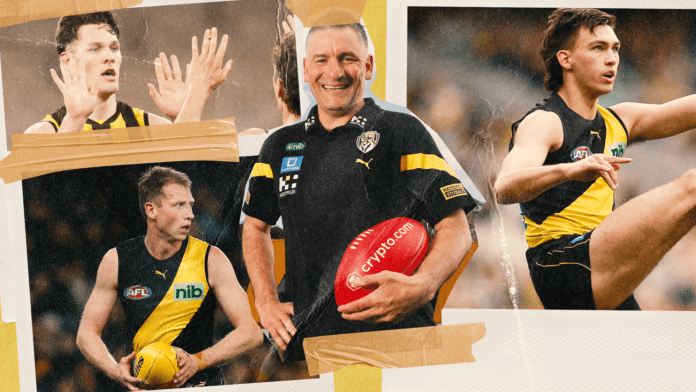 Didn't Richmond meet its crossroads last year?
Reeling from a contentious first-round finals exit at the hands of Brisbane, didn't the 2022 off-season represent the landmark moment in time for the Tigers' ageing list?
Fast-forward a year, though, and a true crossroads appears to await the yellow and black.
The list-shaping decisions made throughout October and November – made all the more significant following Adem Yze's official introduction as Richmond's new senior coach last Friday – are every chance of moulding the club's long-term future.
Why?
Richmond's 2023 campaign was largely hollow and disappointing. Take it from the club's chief executive, who labelled his beloved stalwart "unrecognisable" at times in 2023.
Eliminated from finals contention with a fortnight remaining in the regular season, the Tigers have been humbly shunted back to the drawing board this off-season.
The change from this time last year? They're down considerable draft capital. Options are drastically slimmed. Their manoeuvrability has lessened. Significantly.
And, in case you forgot: their three-time flag-winning coach departed without a moment's notice in the early part of the year.
Richmond's dynasty foundations were already corroding. The Tigers' senior players are just that. Premiership heroes of years past are being surpassed by their faster, spritely opponents.
The dichotomous comparison of game impact those players had during that time with the present is staggering, and representative of a sobering reality for the Punt Road faithful.
2022's player exchange space was looked upon favourably as a revitalising period for the football club; the Tigers seemingly bolstering their midfield brigade via the trade window.
Richmond mortgaged its future on the hopes that ex-GWS duo Tim Taranto and Jacob Hopper would play significant roles in the club's next premiership.
Putting it generously, that moment doesn't feel overly near.
So, as the evolved Tigers – led by Yze and seasoned list manager Blair Hartley – prepare to embark on an imperative period for the Punt Roaders, let's dive into their list operation this off-season.
Confirmed departures
Iconic ball-winner Trent Cotchin decided on his future in early August, signalling his intention to retire at the conclusion of the season after a glittering career steeped in success.
While signs were sometimes evident that he could perhaps play on for another year, the three-time flag skipper made the call that was in the best interest of the football club he's served admirably.
Triple Coleman Medal winner and premiership teammate Jack Riewoldt wasn't far behind his long-time companion in hanging up the boots at year's end.
RELATED: EVERY 2023 RETIREE
Like the hard-headed midfielder, Riewoldt showcased vintage glimpses but made the practical decision of putting a full stop to his decorated career.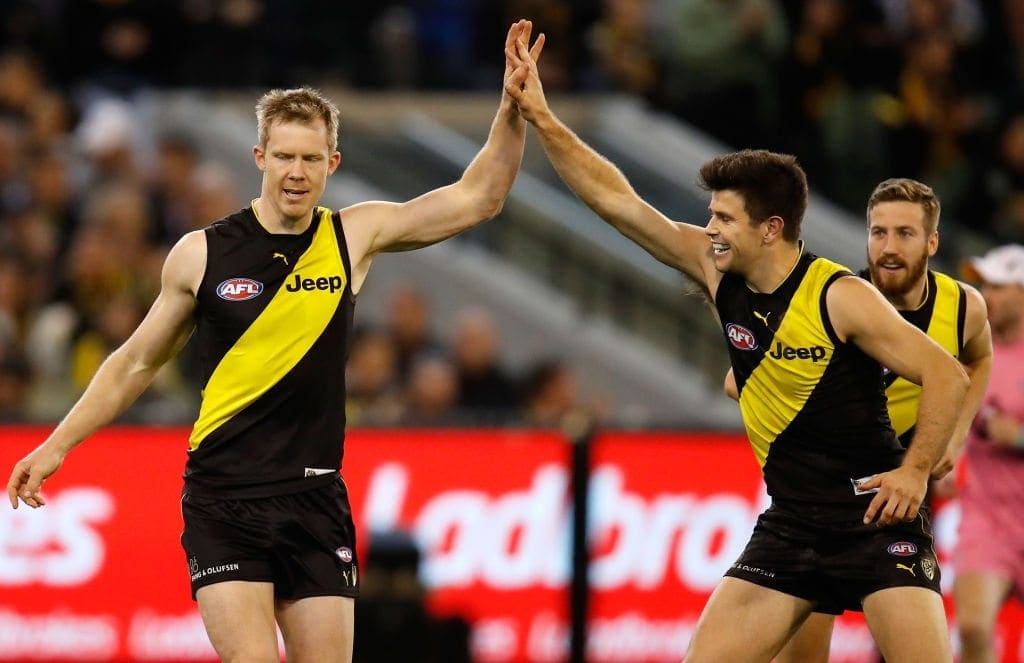 Ex-North Melbourne key defender Robbie Tarrant also ceased his AFL tenure earlier in the season after injuries and age kept him out of the Tigers' lineup. Three-time premiership forward Jason Castagna also gave the game up in the pre-season.
Hartley's committee has stamped its first official cull of the off-season, offloading former Supplemental Signing Period recruit Kaelan Bradtke, whom Richmond opted to offer a deal this pre-season in favour of now-Power utility Quinton Narkle, with Port Adelaide since re-signing the ex-Cat to a second contract.
Tough conversations
A once-rock-solid Dylan Grimes, who is co-captaining the football club with ruckman Toby Nankervis, had a few too many head-in-hands moments this season.
While he isn't retiring this year, the possibility should be far more likely in 2024.
Grimes' defending hiccups increased in prevalence last season, however, his shakiness reared its head further in 2023. In fairness to the veteran, it doesn't help when running mate Noah Balta's on-field lapses in judgement are more frequent than a city loop-bound train.
Maybe Balta is better suited as a forward after all. Having capped his fifth AFL season this year, a definitive positional call will surely be made by Yze, for his and the club's sakes.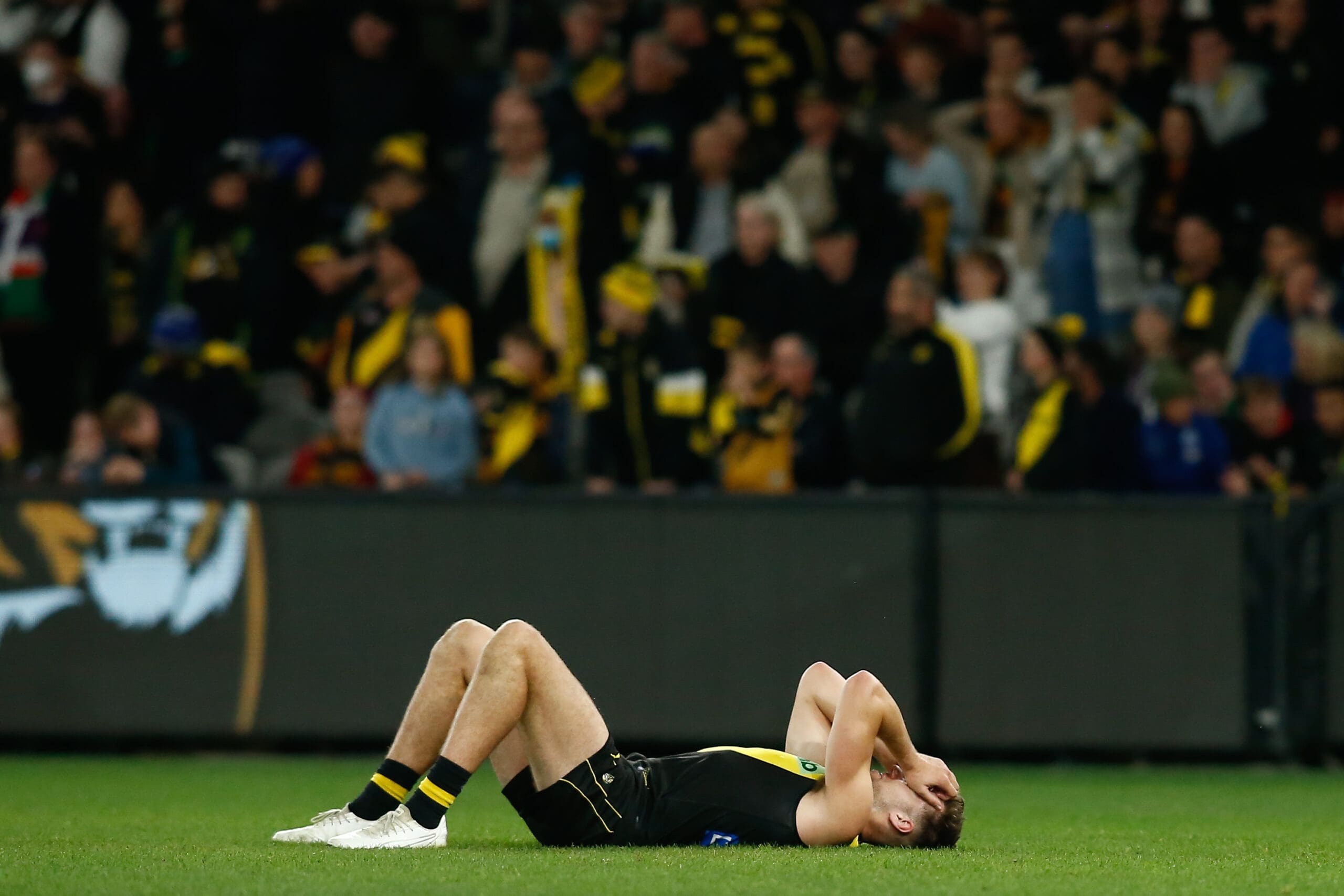 Meanwhile, it feels like a very long time since we watched in blissful awe as Dion Prestia exited from stoppage at the start of the third quarter of the 2019 preliminary final against Geelong, drilling a spear to talisman Tom Lynch, who slammed home a major to change the trajectory of Richmond's dynasty.
We don't see that version of Prestia much these days. Instead, we're subjected to a shell of his former self; categorically beaten at stoppages by quicker, stronger opponents. (See: Jai Newcombe having his way with Richmond's midfield in Round 19.)
It feels morally wrong including Kamdyn McIntosh here. 'Kapps' may well be the most joy-inducing figure at Punt Road. But, his football is leaving a fair bit to be desired.
Once a pacy, gets-under-your-skin type of opponent, McIntosh is now typically left chasing; beaten to the ball by his opposite number.
Mid-Season Draft success story Marlion Pickett will benefit from a trigger clause in his contract that extends his deal a further year.
It's a fortunate reality for Pickett, who stunningly debuted in 2019's big dance. Otherwise, his playing future could have been – and still may be – in question, particularly with foreboding legal proceedings awaiting him in Western Australia.
Under the microscope
Perhaps a forgotten fact; at the 2021 National Draft, Richmond snagged five youngsters within the draft's first 30 selections, starting with pick No. 9, Josh Gibcus.
The GWV Rebels product commenced his AFL career in promising fashion, appearing in 18 senior contests in his rookie season and inspiring belief the Tigers had sourced a decade-long starter at a key defensive position.
The 20-year-old's second season, though, couldn't have gone less according to plan. Gibcus was struck down by a pre-season hamstring injury that lingered irritatingly through the 2023 campaign, resulting in zero AFL appearances.
While not yet a significant concern for Richmond's higher-ups, we know all about the treacherous nature of soft-tissue ailments. The Tigers will hope this season-long blip hasn't stunted Gibcus' long-term development.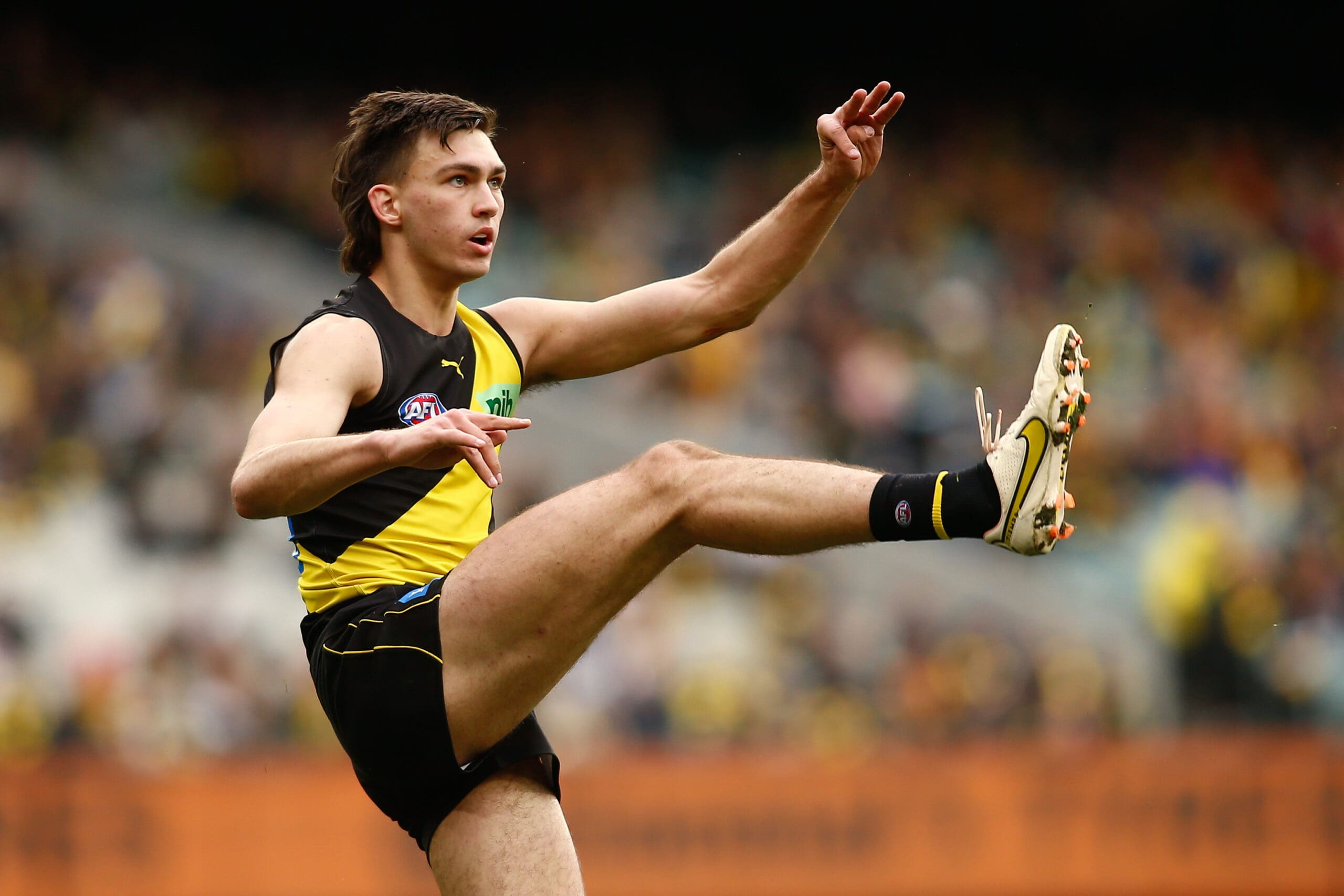 Defender Tom Brown – Pick 17 of that crop – finally appeared at AFL level after flashing tantalising signs with the VFL Tigers as a rebounding prospect who can also compete aerially; envision the dependable mould of Nick Vlastuin.
Prior to his eventual Round 24 debut, injuries had been a niggling hindrance for the 20-year-old thus far in his short career.
Brown and fellow counter-attacking defender Sam Banks, taken 29th overall, showcased a flourishing one-two punch exiting defensive 50 in Steve Morris' reserves outfit.
Since his injection into the senior squad by interim coach Andrew McQualter in Round 17 against the Swans, Banks' run-and-carry prowess has been as impactful as advertised.
Managing averages of 13.8 disposals and 4.0 rebound-50s across five late-season outings, the Tasmanian's progressive prospects are positive.
Hartley and Co. should be expecting 2024 jumps from the pair.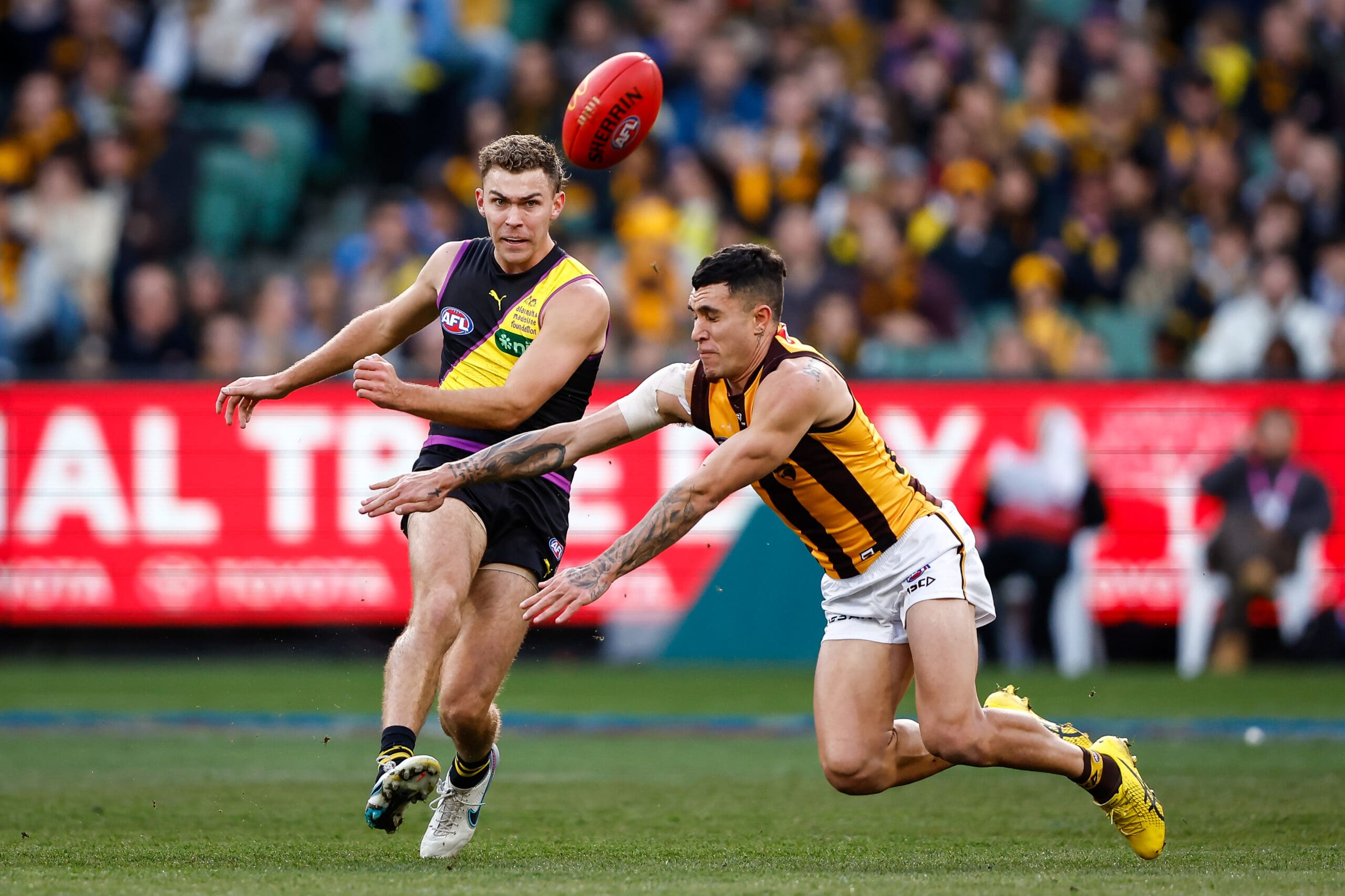 Second-year midfielder Tyler Sonsie – No. 28 in the same draft – hasn't had the kind of impact he'd have been hoping for this season, limited to just three senior games this season as he remained in the shadows of senior midfielders Jack Ross, Jack Graham, and the aforementioned Cotchin.
Judson Clarke, meanwhile, like Banks, has been afforded runs in Richmond's senior side on multiple occasions, teasing his long-term promise in between inconsistent patches.
Potential avenues
As mentioned, the Tigers surrendered their first-round draft choices this year and last year to GWS in exchange for Taranto and Hopper, leaving the yellow and black with lessened flexibility going into November's picking festivities.
As a result of Richmond's disenchanting season, pick No. 6 is headed to Western Sydney, with the Tigers' first selection coming at No. 24; the top-end of the draft's second round. In totality, they currently hold picks 26, 45, 63, and 81 at November's festivities.
SEE ALSO: 2023 DRAFT ORDER
Richmond list boss Blair Hartley and his personnel-deciding crew will continue to ponder ways to potentially enter the first round of the draft despite currently not having any early selections.
Ivan Soldo and Hugo Ralphsmith present as potential tradeable assets this off-season, though Soldo appears the more likely departure candidate, having received interest from Port Adelaide to support likely import Jordon Sweet.
However, a Ralphsmith farewell can't be ruled out as yet, with the off-contract utility presently yet to re-sign at Tigerland.
RELATED: TRADE NEWS & RUMOURS HUB
After offloading their future first-rounder last year, league regulations dictate the Tigers can't do the same this off-season, leaving a potential 'salary-dump' deal as another alternative way to acquire draft capital.
Something in a similar mould to Geelong's 2022 acquisition of Jack Bowes from Gold Coast, would Richmond consider taking on, say, Dylan Shiel's hefty Bombers contract if it meant gaining another valuable draft selection? We'll soon see.
In any case, the Tigers appear certain to make at least one surefire addition during this year's exchange space, with Hawthorn forward Jacob Koschitzke recently requesting a move to Tigerland to partner with absent spearhead Tom Lynch in 2024.
SEE ALSO: Hawthorn forward reportedly requests trade to Victorian rival
Despite the Punt Roaders needing to strike a trade deal for Koschitzke, who holds a non-free-agent status this year, the goalscoring Hawk isn't likely to demand high-end capital, having managed just 48 senior games throughout his five years in the league.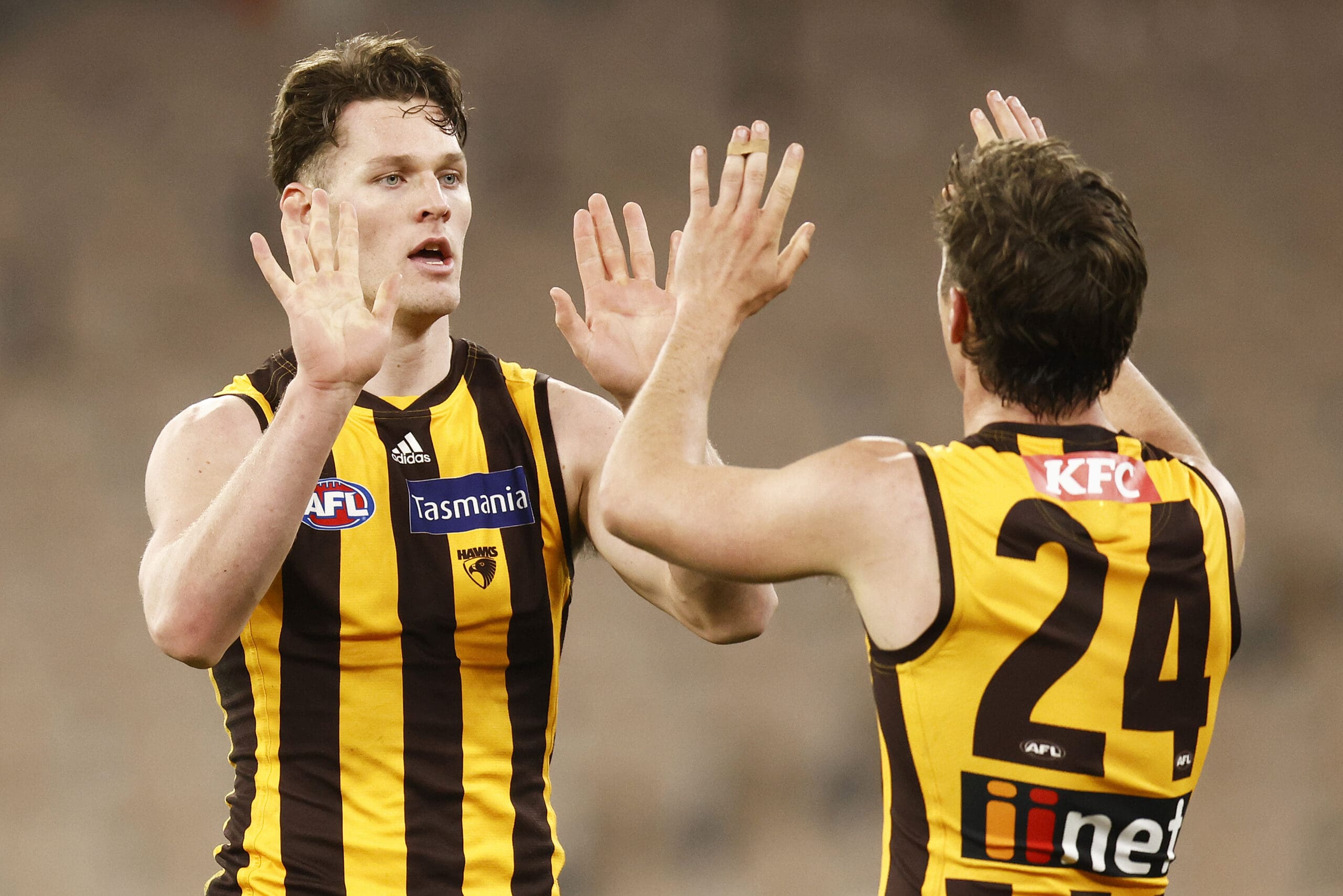 Does the traded-player acquisition end there for Richmond, though? With varying levels of doubt hanging over the futures of their key-defending core, as well as queries regarding engine-room depth, the argument can easily be made there are more issues that require resolution than merely adding an out-of-favour forward to the mix.
With limited trading power and selections as is, moves will need to be made this off-season at Richmond HQ.