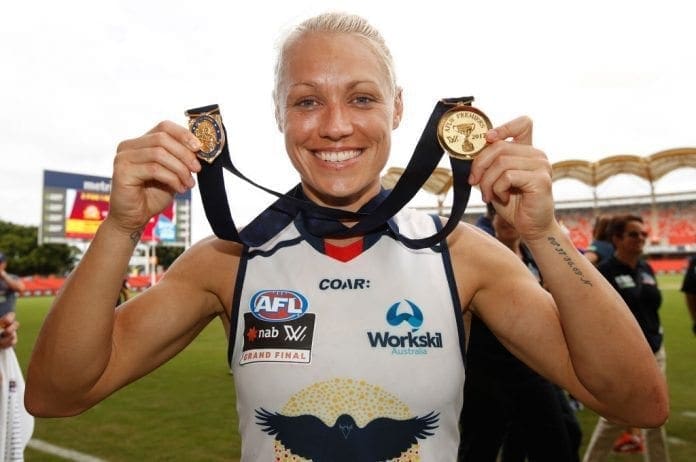 On the eve of the 2022 AFLW season, Adelaide star Erin Phillips has given no indication that this season will be her last.
Heading into season six with the Crows, the two-time AFLW best and fairest winner is showing no signs of slowing down after a strong 2021 campaign that saw Phillips join the All Australian side for the third time.
Speaking to media ahead of Adelaide's opening round grand final rematch against Brisbane, the 36-year-old said her body felt "fantastic" and she was excited to have another shot at premiership glory with the Crows.
"Every season I kind of just play it by it could be my last given age and obviously some injuries I've had in the past but honestly, I feel fantastic," Phillips said.
"So a lot of luck has to go into it and you're getting through a season healthy as well. So I'm just really, really fortunate that I've had a really solid preseason.
"If I pull up at the end of this season feeling good than why not but there's a lot of games nowadays so we'll see how we go.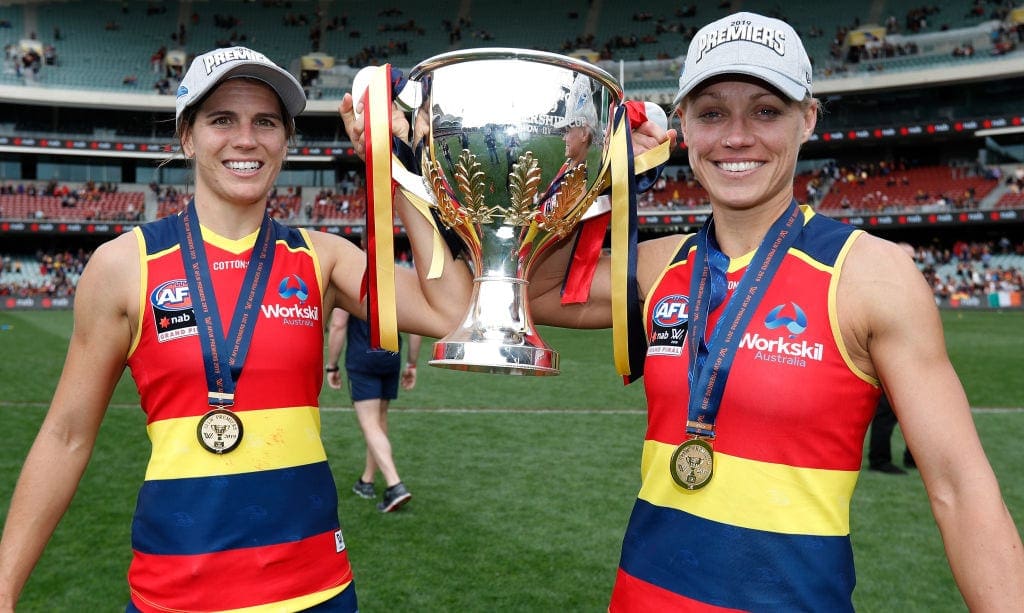 "Honestly, I'd like to play as long as I can and having a brother in law in Shaun Burgoyne who just recently retired from a fantastic career and my dad has played football and all of their advice is, you know, play as long as you can.
"I don't think I'll beat Shaun's 404 record, I think I'll have to play for the next 45 years.
"I'm just really, really excited just to you know, be in year six and still be lacing them up and getting back out there with this team. It's been an amazing ride and hopefully we can still continue to have the success that we've had."
Only one hand needed for Erin Phillips 💪#AFLW | #AFLWCrowsSuns pic.twitter.com/EP3iR8Tfzf

— AFL Women's (@aflwomens) March 6, 2021
Speaking on Port Adelaide's arrival in the competition next season, Phillips accepted that the Crows squad may look far different after this season as Port look to build their inaugural team.
"They're obviously really respectful for all the players that are playing this year," Phillips said.
"No doubt they'll be contacting a lot of our South Australian girls ... If you were Port Adelaide you would definitely be poaching Adelaide Crows players.
"I'm honestly focusing on this season. We're hoping to make a grand final, get back to where we were last season. I'm completely focused on playing with the Adelaide Crows and after the season we'll see how we go."
Phillips and her Adelaide teammates will be looking to make amends against Brisbane this weekend following their 19-point grand final loss in 2021. The Sunday afternoon blockbuster will be held at Flinders University Stadium in South Australia.